As you know, I love to do my reviews SMOKE magazine style, they simply cover so much more than, "there were hints of nutmeg & cumin."
Simply because I had never had any, for some strange reason, Tom (Icehog3) decided I need to try a sampler some of the Caldwell smokes. This is the first one I decided to try. I was taking notes as I was smoking it, so it might be interesting to note the big change as it happens.
Thanks, Tom!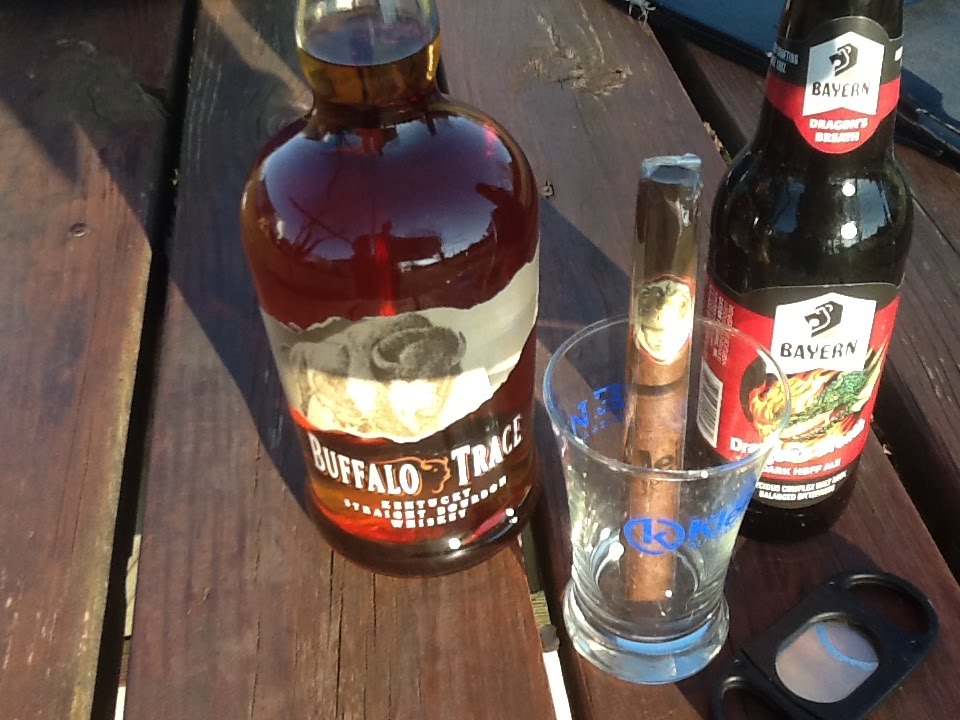 OK, not the best picture, but...
Caldwell Long Live the King
The Heater (Corona) 5.7X46

Aesthetics
: A beautiful, smooth, Colorado wrapper engulfs this stick, with a little pigtail.
Pre-light Construction/How it Smoked:
A firm cigar, filled evenly, though the foot was cut at a bit of an angle. I was very surprised to see that.
Favor and Strength
: Nice tobacco flavors begin with hints of nutmeg and pepper that seem to dominate this mildly medium bodied smoke. It has very Cubanesque flavors, but my palate is off, I cannot pin specifics down.
Whoa! About an inch and a half in, the body strength really kicks it up a notch! It is still smooth and subtle, but… wow! I love that the flavors on this cigar dance around, it is not boring as the complexity kicks up – coffee notes, pepper, citrus, and something else. I loved this think to the nub. (Looked up this cigar after smoking and jotting down my own notes, just to read other reviews and the statements of the "maker." Maybe the flavors I cold not pin down were the "exotic flavors" they tout?)
Post-light Construction: An even burn produces a smooth, greyish, firm, white ash. This is how a cigar should draw, burn, and last – it was a good 1.25 hours… for a Corona! No, I wasn't just nursing it. I wasn't aggressively puffing it either. Just enjoying it with a nice glass of Buffalo Trace.
Aftertaste/Finish:
This lingers nicely on the palate, but that only seems to keeps me a bit more confused as I couldn't place my fingers on specific flavors.
Aroma:
Again, other than the pepper and some citrus notes, maybe coffee, I am having difficulty pinning down specifics. It is nice though!
General Comments:
I am not sure, but I had metallic taste in my mouth earlier in the day – not sure what is causing it, but looked it up and figured, from the possibilities available that I am either pregnant, or it is coming from the "vitamins/supplements" I took and not eating breakfast. Anyway, that may have thrown off my palate. I was rather frustrated that I could not be as specific as I normally like to be. I will say this, I enjoyed it immensely.
Reccomendation:
I recommend this stick, most heartily. I will be looking for more of them, but I will be looking for them in a much reduced price point. I have plenty of cigars in the coolerdor, so I do not need more at this point.